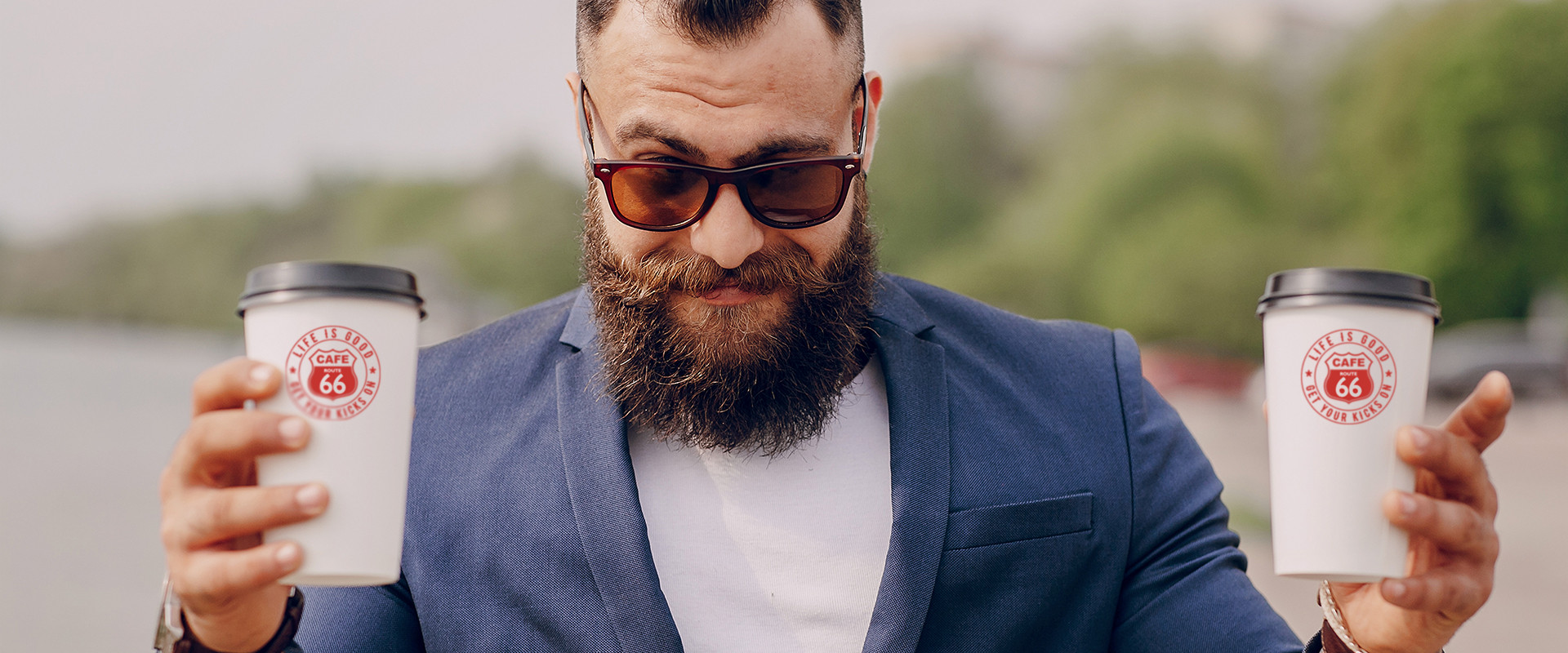 What's new?
Cold Brew
Cold Brew; a very popular way of making coffee which here at Route 66 we have perfected and we offer it mainly in 200 ml bottles.
It is the iced version of the coffee filter - with the defining difference that it is not a filter coffee that has been cooled, but,
as its name suggests, a coffee that has been extracted from the beginning in cold water (room temperature).
Unlike the well-known extraction methods, which require hot water, Cold Brew is extracted in cold water,
which makes the process significantly more time consuming than conventional methods.
It's coffee that's brewed with room temperature or cold water over a 12 to 24-hour brew time.
The different way of extraction affects both the chemical composition of Cold Brew and its taste.
As the process is milder and the temperatures lower, cold brew is sweeter than conventional coffee,
with less acidity and full of fruity aromas. For this reason, it is best to use aromatic, 100% Arabica blends for the preparation of Cold Brew, which will give special aromas as a result.
At Route 66 Cafe, sometimes you will find Cold Brew Concentrate, which is essentially condensed cold extract coffee. The ratio of coffee to water is significantly higher. Thus, the resulting extract is stronger and must be diluted with water or milk before consumption.
Have you tried a Route 66 Cold Brew yet? :)
Freddo Espresso
The most popular and favorite coffee of the summer and not only.
How it is made
The basic recipe requires a double espresso and some ice cubes. Hot espresso is blended in a shaker with the ice cubes in order to chill and served in a glass with ice. If we are talking about Freddo Cappuccino, then add cold frothy milk and a little grated cinnamon or chocolate on top. The preparation of Freddo Espresso may sound simple, but it has its secrets, which concern both the process that is followed and the coffee that is used.
Which Blend of coffee is suitable for Freddo Espresso?
Coffee Blends with a ratio of 70/30 or 80/20 maintain the aromatic profile of Arabica and the properties of Robusta, such as Route 66 Blue Blend, which is famous for its strength, which gives satisfactory results in Freddo Espresso preparation.
We look forward to serving you again...The perfect freddo! 😊
New Route66 Gold Roast!
Our new blend is here! Choose Gold Roast and enjoy high quality coffee. Intense with a gentle and rich aftertaste!
How do we achieve this?
Our 100% Arabica coffee beans are roasted at a lower temperature than our classic Blue Espresso Roast blend. As a result, Gold Roast brings out a combination of strong flavors with creamy fruity aromas and rich cream.
Enjoy it with all your favorite espresso based drinks, cold or hot.
* Originally available at our stores in Aglantzia and Meneou.
Frappnchino BANANA
The well-known Frappnchino of Route 66 comes in a new Summer Twist! Frappnchino BANANA is the new Trend in Town :). Extremely refreshing, enjoyable and above all summery! This Summer, Frappnchino Banana will Cool you down!
Frappnchino Banana Rocks!
Find your nearest Route 66 store...Have you ordered yet? :)
Route 66 Aglantzia: Delivery/Take Away/Sit in (22103708 & Online Orders https://www.route66cafe.com.cy)
Route 66 Lakatamia: Delivery/Take Away/Sit in (22250304)
Route 66 Nicosia (Santeclair Building): Delivery/Take Away/Sit in (22660011)
Route 66 Meneou: Delivery/Take Away/Sit in (24100166)
Route 66 Livadia: Take Away/Sit in (24660670)
Our staff and customers' safety is our priority #stayhome
Dear friends,
Following the latest government guidelines, Route 66 Cafe stores from 21/05/2020 until further notice will operate as follows:
Route 66 Aglantzia: Delivery/Take Away/Sit in (22103708 & Online Orders https://www.route66cafe.com.cy)
Route 66 Lakatamia: Delivery/Take Away/Sit in (22250304)
Route 66 Nicosia (Santeclair Building): Delivery/Take Away/Sit in (22660011)
Route 66 Meneou: Delivery/Take Away/Sit in (24100166)
Route 66 Livadia: Take Away/Sit in (24660670)
*Working hours may vary for each shop*
*For immediate response you can contact us through our web site Live chat or at
https://www.facebook.com/Route66Cyprus
6 EASY STEPS TO MAKING GREAT MOKA POT COFFEE
Step 1. Grind about 20-22 grams of coffee, about as finely as you would for a shot of espresso.
Step 2. Boil water ideal at the temperature of 70°C - 75°C , and fill the bottom half of your Moka pot.
Step 3. Fill the pot's filter basket with the ground coffee, and give it a shake to settle the grounds evenly. Now place it into the bottom compartment.
Step 4. Screw on the Moka pot's spouted top. Caution! The bottom chamber will be hot.
Step 5. Place the pot on a stove set to low heat.
Step 6. When the water in the bottom chamber approaches a boil, the pressure will push a stream of coffee slowly and methodically through the upper chamber. You know it's done when you hear a hissing, bubbling sound.
Serve and Enjoy.
9 Easy Steps to Making Great Pour-Over Coffee
What you'll need
- Filtered Water
- Coffee beans or Coarse ground coffee
- Carafe
- Filter
- Water kettle
- Mug(s)
How to make pour-over coffee
Step 1. Prepare your ingredients. Measure your water and coffee beans.
We recommend the ratio of 28g of coffee for every 12 oz (360ml) of water. Measured by volume, that's about 4 tablespoons of ground coffee to 1.5 cups of water. But you can make it stronger or weaker to your taste.
Step 2. Grind the coffee. Grind coffee to a coarse ground. (If you're using pre-ground coffee, you can skip this step.)
Step 3. Pour measured water into kettle and turn on to boil.
Step 4. Add coffee grounds to filter. While water is boiling, add coffee grounds to filter.
Step 5. Get the correct temperature of water. Once water has boiled, wait about 30 seconds before pouring so that the water has settled down slightly from its active boiling temperature. This is called "off boil" water.
Step 6. Blooming. Bloom the coffee grounds by pouring enough water to wet all of the grounds. You'll see the coffee is blooming because it will bubble. Stop pouring the water and let the coffee bloom for 30 seconds.
Step 7. Begin your brew pour. Pour water steadily and evenly over grounds. We recommend using a clockwise motion starting at the middle and moving towards the edge, and back to center. Keep repeating that pattern, pouring the water at a rate that will not "flood" the grounds but will keep them submerged in water.
Step 8. End your brew pour. If you've measured your exact amount of water, you will end your brew pour when you have run out of water. Make sure to let all of the water drip through your filter before removing it. You shouldn't see any dripping.
Step 9. Remove filter and grounds.
Serve and enjoy. Pour coffee into your favorite coffee mug and enjoy. Drink it black or with any of your favorite coffee bar additions.
NEW SHOP IN MENEOU
WE ARE OPEN! FREE DELIVERY 24100166
Our friends: Our new shop in Meneou is ready to welcome you! Cafe Route 66 is here to offer all coffee lovers and non the ultimate pleasure! Our strong and tasty coffee, a trademark of our chain, will keep you alert in the early hours of the morning! If you are looking for something more fragrant and lighter, you should try our incredibly balanced Gold Roast blend! If you are looking for something more sophisticated, we invite you to ask our barista to recommend the perfect drink for you among an incredibly delicious range of beverages that identify our brand, such as Frappnchino, Sticky Toffee and more! Beyond that, we are sure that our new Juice Bar with nutritious natural juices will not go unnoticed either. And hey! Don't forget to go through our new menu and choose from our freshly prepared sandwiches, salty treats, salads, yogurts with honey and fruits and fresh pastries! Among all there, you will also have the opportunity to enjoy everyone's favorite CINABBON! So come visit us and let us treat you to the fascinating world of Route 66's delicious delights, because Life is Good!