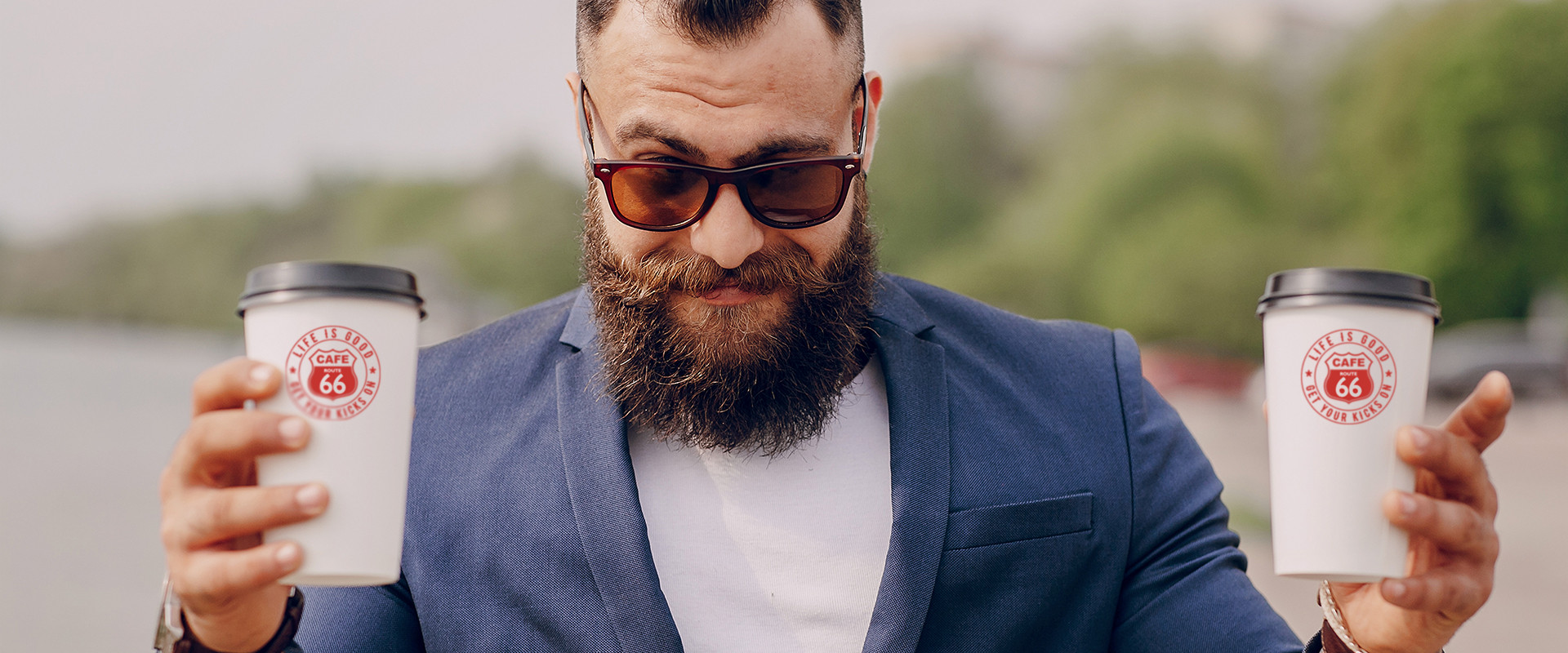 What's new?
GOLD BLEND STRIKES AGAIN
Once again this year, for the third time in total and the second year in a row, Route 66 Gold Blend was awarded the Gold Medal by the International Coffee Tasting 2022, perhaps the most important international coffee competition.
The International Coffee Tasting is the only competition that calculates the score only on measurable and controllable characteristics of the coffee, with an objective vision linked to sensory analysis. This year the Gold Blend reached an excellent score of 90 out of 100.
At Route 66 Cafe our first concern is the quality and consistency of our coffee. This translates into the development of know-how and technology that is evident in all our stores, the continuous awards given to our blends, and the constant quality control throughout the entire procedure before a cup of coffee reaches your hands.
Our love for coffee and respect for the product we offer - to all of you -, allow us to continue our upward trajectory.
Thank you!
GOLD BLEND - GOLD MEDAL
Once again, this year, Route 66 Cafe win a double award at the International Coffee Tasting 2021, the most important international coffee competition, with the awarding of two Gold Medals for its blends of coffee in beans for the preparation of espresso: Gold Prestige Blend (Anniversario) and Gold Blend with the amazing respectively score 90.63/100 and 91.15/100.
Gold Prestige Blend is a 100% Arabica blend composed of natural Brazilians, semi-washed Brazilians, and washed Arabica from Central America and Africa. The delicate aroma and velvety body, a very fine acidity combined with a vein fruity and spicy, hints of chocolate, exotic fruit, and tropical flowers are the basis of this unique symphony of aromas.
Gold Blend is made from washed Arabica from Central and South America. Roasted for espresso, Gold Blend is a sweet and elegant coffee, with a velvety cream and persistent aromas, with aromas of flowers and fresh fruit that give way to vanilla and jasmine, and with marked acidity.
Ask for your Gold Blend at Route 66 Cafe.
For more information, you can contact us at 22103708.
You can supply our espresso Gold beans from any Route 66 Cafe or Online with Cyprus wide shipping at www.yesbarista.com
New Route 66 in the Center of Nicosia
New ROUTE 66 Coffee Shop in the center of Nicosia!
The little brother of the Route 66 family will be serving its amazing award-winning coffees now in the center of the capital! Here you will find a more alternative menu with delicious and satisfying sandwiches, salads, platters, healthy snacks, cold-pressed juices, sweets, and of course our signature drinks!
We know you are chill and fun, that's why at our opening on Monday, October 3rd, from 07:00 until 12:00 noon we treat you to coffee.
You will find us at Bouboulinas and Stassandrou 14A (next to Bakali)
We feel more welcome in the neighborhood with every coffee we serve.
Looking forward to meeting you on Monday.
Get Ready!...for something new and amazing!
Get ready !!! On Tuesday 28.06.2022 and starting time 18:00, something new and big is coming to Route 66 Aglantzias. Most experts and professionals in the field of coffee GOLDEN MONKEY ROASTERS with their team, have committed and undertaken the "half day renovation challenge" of Route 66 Aglantzias. What does this mean?
A complete transformation of the bar with all that entails and installation - setting or perhaps the best espresso machine in the world and for the first time in Cyprus La Cimbali M200. Get ready then because on 29.06.2022 you will enjoy amazing coffee drinks from our unique award-winning blends, our fantastic machine, and our incredible baristas! 😀😎😀
We thank all of you for your support and trust, which we "redeem" with evolution for the best possible result. You are incredible! See you all on 29.06.2022 😀😎😀
NEW SUMMER DRINKS!
It's time to cool down !!! Stop at Route 66 and don't think about it!
Sip your way through summer with our new refreshing summer drinks! It feels like summer!
1) Chocolate Cream Freddo Espresso: Freddo Espresso in a very summery Route 66 variant. Milk 0%, chocolate, and vanilla combine their forces with the ultimate espresso 100% Arabica. It stimulates you differently!
2) Frappnchino BANANA: The well-known Route 66 Coffee Frappnchino in a summer variation with banana aroma and taste. Extremely enjoyable and refreshing. Tip: Add extra whipped cream for maximum enjoyment.
3) Chocolate Caramel Crunch Frappnchino: Another brand new Route 66 Frappnchıno is full of chocolate and addictive. Delicious frappnchino chocolate with toffee caramel filling that takes you "somewhere else" this summer! Tip: Add extra whipped cream for maximum enjoyment.
Order Yours Now:
Aglantzia: +35722103708
-- To ORDER ONLINE Aglantzia click HERE
Meneou: +35724100166
Livadia: +35724660670
New Single Origin Coffee!
New super-fresh Single Origins Coffee has landed at Route 66 Cafe!
Call us Now at 22103708 or order them online (delivery all over Cyprus) at yesbarista.com
Online Order for Aglantzia Click HERE
BRAZILIAN CERRADO COFFEE 250gr
Brazilian coffee with tasting notes of chocolate, caramel, and hazelnut. Giant of worldwide coffee production, Brazil produces the most coffee and grows some of the best.
COLOMBIA TARSO ANTIOQUIA COFFEE 250gr
This coffee has a citric acidity, and a good body with hints of citrus and peach.
Lying on the western slope of the western Andes cordillera is Tarso, a town in the department of Antioquia, 95 Kilometers southwest of Medellin. In this region, the Botero family has been growing coffee for 2 generations. For Colombian standards, they are medium size producers, with almost 200 hectares planted with coffee, all at around 1450 to 1800 meters above sea level. The entire volume of cherries is processed in a central wet mill, allowing for a very homogeneous quality. We have sampled and cupped the coffee and found it to have a balanced cup, with a very good body, medium-high acidity, and even a slight "chocolate" aftertaste. The most interesting point beyond the cup is the large, homogeneous volume of coffee that can be sourced here.
COSTA RICA TARAZZU COFFEE 250gr
This coffee has a creamy body, decent acidity, and flavors of plum & chocolate.
Due south of San José you will find the majestic mountains of Tarrazú. Sheltered between the Pacific Coast, the Central Valley, and the high peaks of the country´s central mountain range, Tarrazú is one of the world's most famous coffee-growing regions. This magnificent area, fondly known as the Area of the Saints, is considered to yield the most superb Strictly Hard Bean coffees in Costa Rica, grown at altitudes between 1.200 to 2.000 masl. The rich volcanic soil, the high altitude, as well as the perfect combination of sunlight, temperature, and precipitation provide the essential components to produce an exceptional coffee.
HONDURAS COMSA COFFEE 250gr
This coffee has a nutty/herbal flavor, coming with a full body and mild acidity.
Our "Rock Stars" Blends!
At Route 66 Cafe we ​​stock quite enough blends, either to grind for the house or in beans.
- But two blends have a leading role in our drinks and our hearts! Our "Rock Star" blends are Blue Intense Coffee and Gold Prestige Coffee.
-- And a third comes as a guest star.
Blue is the blend that we are very proud of and which will give you the energy to start your day with a Real Boost! Is the one we serve and consists of 20% high-quality Indian Robusta beans and 80% South American Arabica. A blend that is made to achieve the necessary balance between the complex aromas of Arabica and the body and the aftertaste offered by Robusta.
Blue is a Blend with Stronger Taste with more Caffeine and peanutty aftertaste.
Gold is another blend that makes us proud and which will relax you and form a smile on your lips! Ιs our second blend that you can choose and consists of 100% Arabica from Central-South America which offers us a light and balanced taste, with a sweet and delicate aroma, full body, with notes of cocoa, fruit, and almonds.
Gold is a Blend with Softer Taste with Less Caffeine, balance, and smooth aftertaste.
Our 3rd blend which will alternate will consist of exceptional single origin coffees.
At the moment you can find in specific stores the following:
BRAZIL, COLOMBIA, COSTA RICA, HONDURAS.
-- To learn more or to order your favorite drink, ground coffee, beans and much more call at
22103708
-- To ORDER ONLINE click HERE
Cold Brew
Cold Brew; is a very popular way of making coffee which here at Route 66 we have perfected and we offer it mainly in 200 ml bottles.
It is the iced version of the coffee filter - with the defining difference that it is not a filter coffee that has been cooled, but,
as its name suggests, a coffee that has been extracted from the beginning in cold water (room temperature).
Unlike the well-known extraction methods, which require hot water, Cold Brew is extracted in cold water,
which makes the process significantly more time-consuming than conventional methods.
It's coffee that's brewed with room temperature or cold water over a 12 to 24-hour brew time.
The different way of extraction affects both the chemical composition of Cold Brew and its taste.
As the process is milder and the temperatures lower, cold brew is sweeter than conventional coffee,
with less acidity and full of fruity aromas. For this reason, it is best to use aromatic, 100% Arabica blends for the preparation of Cold Brew, which will give special aromas as a result.
At Route 66 Cafe, sometimes you will find Cold Brew Concentrate, which is essentially condensed cold extract coffee. The ratio of coffee to water is significantly higher. Thus, the resulting extract is stronger and must be diluted with water or milk before consumption.
Have you tried a Route 66 Cold Brew yet? :)
Single Origin Coffee
Route 66 Cafe has established an exclusive corporation with Trismoka Single Origin Coffee.
As you already know here at Cafe Route 66 we Love coffee!!! That's why our effort to support our chain and all coffee lovers with Great Single Origin Coffee is continuously. Our last teamed up with Trismoka Philosophy on Single Origin Coffee was successful! :)
We Offer to all of our fans and coffee lovers in Gas-Flushed Tins:
450g Beans or 125g Ground Coffee (for Moka Pot, Filter, Dripper):
COLOMBIA
Is a sharp coffee, with a full body and medium-high acidity that gives initially apricot jam flavor notes, arising to an elegant note of dark cocoa and chocolate.
NICARAGUA BIO
Is the ideal base for creating an ethical coffee, with almond blossom and soft fruit flavor notes and an aftertaste of cocoa, prune and hazelnut. It has an excellent body and a medium-low acidity.
PANAMA
An elegant, full-bodied espresso can be created, good balanced with hints of cocoa, typical of Central-American washed coffee; a malty taste with flowers hints of hibiscus and citrus.
COSTA RICA
Is the ideal base for creating a first class coffee, characterized by a full body, with a fine acidity that generates sweet citrus notes. The extended aftertaste reminds dark cocoa and spices.
KILIMANJARO
An intense espresso can be created, that shows an excellent body combined with a subtle acidity. The aftertaste reminds ripe fruit with apricot and red plum aromas.
Gold Monkey Coffee Roasters
Gold Monkey, one of the best Coffee Roasters that will thrill you!
Now in cooperation with Route 66 Cafe* you can buy Gold Monkey coffee blends for your home or your work.
*Available initially at Route 66 Cafe Aglantzia
ORDER ONLINE
Or Call 22103708 to Order
Lets Meet Some Blends:
50% Arabica / 50% Robusta (Super Strong)
With this blend, the proportion of high-quality, washed Robusta is increased even further. The beans come from Brazil, Ethiopia, India, and Uganda.
South American Arabica beans provide a sweet and creamy coffee pleasure and selected, natural and washed Robusta beans form a velvety and sweet blend with a subtle, not at all aggressive character. Acids and bitter substances don't stand a chance here.
Full, dense crema, with a wonderful hazelnut brown marbling.
30% Arabica/ 70% Robusta (Strong)
The embodiment of a genuine southern Italian espresso coffee! This is the taste of an espresso coffee roasted according to Neapolitan tradition.
In addition to first-class Robusta, Arabica beans are also used in this blend. These provide an extraordinarily full body as well as an excellent crema. The beans are roasted very oily – typical Neapolitan. Correctly ground, this espresso runs almost oily into the cup. This makes Golden Monkey Strong just as suitable for mocha as for strong espresso or latte.
90% Arabica/ 10% Robusta (Mild)
It is a particularly creamy and intensive blend of 90% Arabica and 10% Robusta beans for a great and powerful coffee. The long-lasting full-bodied taste is created from the best varieties from Brazil and India. Which results in both a mild espresso and a strong coffee. Its incomparable aroma gives the Gold Monkey Mild delicate notes of tobacco, spelt, oak wood and dark chocolate. Gold Monkey Mild stands for a mild espresso that is drunk as coffee, whereby the crema or foam on the coffee is meant.
The Gold Monkey Mild is an aromatic experience both as coffee, espresso, cappuccino or latte macchiato.
• Main note: oak wood
• Secondary note: spelt, tobacco
• Finish: Dark chocolate
100% Arabica (Premium)
The Arabica beans come from the best growing areas. Semi washed Brazils and Panama Boquete. The rest remains a secret of Golden Monkey Roasters.
The Golden Monkey coffee factory roasts each variety separately in the Probat drum roaster. Only carefully selected Arabica coffees are used. The beans are first roasted slowly and gently, variety by variety, at temperatures between 200 and 220 degrees, before they are combined to form this balanced blend.
Cupping Notes: Relaxing, aromatic, profound
100% Arabica (Colombia)
Gold Monkey Colombia spoils the palate with a creamy taste that echoes chocolate and nut flavors. It is very mild and easily digestible, making it an excellent espresso. The South American beans provide a balanced fine aroma and a unique spice.
6 EASY STEPS TO MAKING GREAT MOKA POT COFFEE
Italian mocha is none other than the homemade espresso prepared in the Moka pot, the well-known aluminum coffee maker that households used to have. It took its name from the Yemeni city of Mocha, which was famous for its coffee. The only difference from the espresso we know is the lack of cream, which no matter how hard you try, you will not succeed in this way of preparation.
Step 1. Grind about 20-22 grams of coffee, about as finely as you would for a shot of espresso.
Step 2. Boil water ideal at the temperature of 70°C - 75°C , and fill the bottom half of your Moka pot.
Step 3. Fill the pot's filter basket with the ground coffee, and give it a shake to settle the grounds evenly. Now place it into the bottom compartment.
Step 4. Screw on the Moka pot's spouted top. Caution! The bottom chamber will be hot.
Step 5. Place the pot on a stove set to low heat.
Step 6. When the water in the bottom chamber approaches a boil, the pressure will push a stream of coffee slowly and methodically through the upper chamber. You know it's done when you hear a hissing, bubbling sound.
Serve and Enjoy.
New Route66 Gold Roast!
Our new blend is here! Choose Gold Roast and enjoy high quality coffee. Intense with a gentle and rich aftertaste!
How do we achieve this?
Our 100% Arabica coffee beans are roasted at a lower temperature than our classic Blue Espresso Roast blend. As a result, Gold Roast brings out a combination of strong flavors with creamy fruity aromas and rich cream.
Enjoy it with all your favorite espresso based drinks, cold or hot.
* Originally available at our stores in Aglantzia and Meneou.
CAPSULES FOR NESPRESSO®
Enjoy your favorite Route 66 coffee with the Capsules Compatible with Nespresso® Original machines.
FIND YOUR NEAREST ROUTE 66 COFFEE SHOP
ORDER ONLINE
Choose Strong Blend:
-- Deciso --
Blend of Asian Robusta with a strong and decisive temperament softened by the intervention of Arabica which enhances its aroma.
Content: 10 single-serving capsules of 5,5 g of roasted and ground coffee.
Choose Soft Blend:
-- Soave --
Espresso of 100% Arabica from South and Central America with a sweet
taste and balanced acidity.
Content: 10 single-serving capsules of 5,5 g of roasted and ground coffee.
Choose Single Origin Brazil:
-- MONORIGINE BRASILE --
Single-origin Alta Mogiana 100% Arabica, Brazil. Fine acidity and sweet,
fruity taste.
Content: 10 single-serving capsules of 5,5 g of roasted and ground coffee.
Choose Single Origin Ethiopia:
-- COLLECTION ETHIOPIA --
From the slopes of the Sidamo region comes a 100% Arabica coffee with a
delicate aroma and intense floreal notes of bergamot.
Content: 10 single-serving capsules of 5,5 g of roasted and ground coffee.
Freddo Espresso
The most popular and favorite coffee of the summer and not only.
How it is made
The basic recipe requires a double espresso and some ice cubes. Hot espresso is blended in a shaker with the ice cubes in order to chill and served in a glass with ice. If we are talking about Freddo Cappuccino, then add cold frothy milk and a little grated cinnamon or chocolate on top. The preparation of Freddo Espresso may sound simple, but it has its secrets, which concern both the process that is followed and the coffee that is used.
Which Blend of coffee is suitable for Freddo Espresso?
Coffee Blends with a ratio of 70/30 or 80/20 maintain the aromatic profile of Arabica and the properties of Robusta, such as Route 66 Blue Blend, which is famous for its strength, which gives satisfactory results in Freddo Espresso preparation.
We look forward to serving you again...The perfect freddo! 😊
Frappnchino BANANA
The well-known Frappnchino of Route 66 comes in a new Summer Twist! Frappnchino BANANA is the new Trend in Town :). Extremely refreshing, enjoyable and above all summery! This Summer, Frappnchino Banana will Cool you down!
Frappnchino Banana Rocks!
Find your nearest Route 66 store...Have you ordered yet? :)
Route 66 Aglantzia: Delivery/Take Away/Sit in (22103708 & Online Orders https://www.route66cafe.com.cy)
Route 66 Lakatamia: Delivery/Take Away/Sit in (22250304)
Route 66 Nicosia (Santeclair Building): Delivery/Take Away/Sit in (22660011)
Route 66 Meneou: Delivery/Take Away/Sit in (24100166)
Route 66 Livadia: Take Away/Sit in (24660670)
Our staff and customers' safety is our priority #stayhome
Dear friends,
Following the latest government guidelines, Route 66 Cafe stores from 21/05/2020 until further notice will operate as follows:
Route 66 Aglantzia: Delivery/Take Away/Sit in (22103708 & Online Orders https://www.route66cafe.com.cy)
Route 66 Lakatamia: Delivery/Take Away/Sit in (22250304)
Route 66 Nicosia (Santeclair Building): Delivery/Take Away/Sit in (22660011)
Route 66 Meneou: Delivery/Take Away/Sit in (24100166)
Route 66 Livadia: Take Away/Sit in (24660670)
*Working hours may vary for each shop*
*For immediate response you can contact us through our web site Live chat or at
https://www.facebook.com/Route66Cyprus
9 Easy Steps to Making Great Pour-Over Coffee
What you'll need
- Filtered Water
- Coffee beans or Coarse ground coffee
- Carafe
- Filter
- Water kettle
- Mug(s)
How to make pour-over coffee
Step 1. Prepare your ingredients. Measure your water and coffee beans.
We recommend the ratio of 28g of coffee for every 12 oz (360ml) of water. Measured by volume, that's about 4 tablespoons of ground coffee to 1.5 cups of water. But you can make it stronger or weaker to your taste.
Step 2. Grind the coffee. Grind coffee to a coarse ground. (If you're using pre-ground coffee, you can skip this step.)
Step 3. Pour measured water into kettle and turn on to boil.
Step 4. Add coffee grounds to filter. While water is boiling, add coffee grounds to filter.
Step 5. Get the correct temperature of water. Once water has boiled, wait about 30 seconds before pouring so that the water has settled down slightly from its active boiling temperature. This is called "off boil" water.
Step 6. Blooming. Bloom the coffee grounds by pouring enough water to wet all of the grounds. You'll see the coffee is blooming because it will bubble. Stop pouring the water and let the coffee bloom for 30 seconds.
Step 7. Begin your brew pour. Pour water steadily and evenly over grounds. We recommend using a clockwise motion starting at the middle and moving towards the edge, and back to center. Keep repeating that pattern, pouring the water at a rate that will not "flood" the grounds but will keep them submerged in water.
Step 8. End your brew pour. If you've measured your exact amount of water, you will end your brew pour when you have run out of water. Make sure to let all of the water drip through your filter before removing it. You shouldn't see any dripping.
Step 9. Remove filter and grounds.
Serve and enjoy. Pour coffee into your favorite coffee mug and enjoy. Drink it black or with any of your favorite coffee bar additions.
NEW SHOP IN MENEOU
WE ARE OPEN! FREE DELIVERY 24100166
Our friends: Our new shop in Meneou is ready to welcome you! Cafe Route 66 is here to offer all coffee lovers and non the ultimate pleasure! Our strong and tasty coffee, a trademark of our chain, will keep you alert in the early hours of the morning! If you are looking for something more fragrant and lighter, you should try our incredibly balanced Gold Roast blend! If you are looking for something more sophisticated, we invite you to ask our barista to recommend the perfect drink for you among an incredibly delicious range of beverages that identify our brand, such as Frappnchino, Sticky Toffee and more! Beyond that, we are sure that our new Juice Bar with nutritious natural juices will not go unnoticed either. And hey! Don't forget to go through our new menu and choose from our freshly prepared sandwiches, salty treats, salads, yogurts with honey and fruits and fresh pastries! Among all there, you will also have the opportunity to enjoy everyone's favorite CINABBON! So come visit us and let us treat you to the fascinating world of Route 66's delicious delights, because Life is Good!